ATV586 Android TV now support native Digital TV (DVB-T2 or ATSC)
Internet TV and Digital TV gets finally merge together to the first Android Hybrid TV box, a real powerful and easy of use platform for all Free to Air digital TV.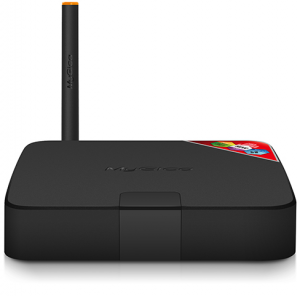 Based on Android 4.4.2 (Kitkat), as well pre-installed Kodi (XBMC), youtube, Netflix, hulu and many more, the MyGica ATV586 does not only provide digital TV, it is a platform of freedom. Running Kodi (XBMC) with native digital tuner support, MyGica ATV586 also give the capability to stream from MyGica`s ATV586 your digital TV Program to your smartphone / tablets. By using MyGica's cutting edge technology, Users you can watch and enjoy digital TV over their Home Wi-Fi on all your smart devices.
Octa Core processor
MyGica ATV586 built with a quad core Processor and quad core GPU, combine with Android 4.4.2 OS, ATV586 gives you very stable, high response speed and smooth control experience.
OTA Update
MyGica Andoid TV Platforms / Solution benefit from MyGica`s a worldwide secure online update service, to warrant and to run always the latest, saves and greatest Firmware and Application which are available.
Live digital TV receiving
Watch, Record, Edit and Enjoy Live TV. MyGica ATV586 delivers free-to-air and view with a superb Television Quality to you TV via aerial (DVB-T2 or ATSC)
Set up schedules to record your favorite TV programs Parent control compatible Streaming live TV to you smartphones or tablets .
Delivery live TV to a second screen (Android smartphones or Tablets) and enjoy real live digital TV todifferent portable device anywhere at home.
Kodi 14.1
Kodi is a media player that allows users to play and view most videos, music, such as podcasts from the Internet, and all common digital media files from local and network storage media. The ATV586 comes pre-installed / customized Kodi (XBMC), with full hardware decoding support.
H.265 hardware decoding. Saving 50% bandwidth
MyGica`s ATV586 has the future build in, the ATV586 support native up to 1080p H.265/HEVC. H.265/HEVC is the new standard and the successor of H.264/AVC. Compare to H.264/AVC, H.265/HEVC data compression ratio is double efficient at the same level of video quality. It can alternatively be used to provide substantially improved video quality at the same bit rate.
About MyGica:
MyGica™, an expert in TV products, delivers the consumer the ultimate experience of watching TV on PC. You will be able to capture, convert and watch your favorite programs whenever you like. MyGica™ is an engineering-driven company with a strong Commitment to design, development and producing.MyGica™, the global digital video device brand. Over these years, MyGica have been sold all over the world. Till now, MyGica brand have been developed all around the world, including Hong Kong, Australia, Thailand, India, Iran, German, United States, Mexico, United Kingdom, Argentina and Brazil. MyGica's Products including Android TV, TV tuner stick, TV tunecard, PC to TV devices, Video Adapter Devices, Video Converter Devices, HD Media Player, Portable TV, etc.
Media Contact:
Email: sales@mygica.com.