Google's Nexus Player was just the beginning! Today MyGica just announced world's 2nd Android 5.0 TV box. The ATV1900AC comes with much higher specification than Google Nexus Player, it simple add significant technologies as H.264 and HEVC H.265 support up to 4K2K Ultra HD playback, Gigabit Ethernet LAN, MIMO 11ac Wi-Fi, 2GB DDR3 /16GB internal application memory, HDD support and Voice control and Voice Recognition to the platform, all this leading enhanced technologies fresh`s up Android TV to the next level.
MyGica's new Android 5.0 powered ATV1900AC are reflecting the state of the art demanded technologies, and demanding be leader in the whole industry of Android TV Platforms.
Firmware / Operation System
Android 5.0
No 1 and fastest Android 5.0 quad core Android TV box in the world
Youtube/Netflix TV: With Youtube/Netflix TV version support which give you 1080P and 4K2K Ultra HD viewing experience on big TV Screen
Connectivity 1: WLAN 802.11AC /2T2R
3x Faster Wi-Fi speed than Wireless-N Wi-Fi
150% wider/Ultra-wide coverage for large homes and multi-floor location via MyGica ATV1900AC
Less Interference
Connectivity 2: Gigabit Ethernet.
Extremely fast and stable for local network video streaming and Ultra HD streaming.
Kodi 14.1
Kodi, formally known as XMBC, is a media player platform that allows users to play and view most videos, music, such as podcasts from the Internet, home network and all common digital media files from local and network storage media. The ATV1900AC comes pre-installed customized and optimized with Kodi, with full enabled hardware decoding up to 4K2K Ultra HD support.
4K2K/ULTRA HD
4K2K Ultra HD video playback / real time decoding. Enjoy the incredible picture crispness and dramatic detail 4K2K Ultra HD and 1080p resolution.
H.265 hardware decoding, saving 50% bandwidth
H.265/HEVC is a successor to H.264/AVC. Compare to H.264, H.265 data compression ratio is double at the same level of video quality. It can alternatively be used to provide substantially improved video quality at the same bit rate.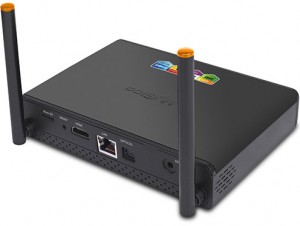 Voice search and Voice recognition
The ATV1900AC follow your advice. With Voice Search MyGica add Remote Control by Voice to Android TV — simply say the name of the application / or Keywords you want to use or search for and the System immediately do so, same as just for say the name / or Keywords you want to search in internet and you start enjoying results in seconds.
OTA Update
MyGica Andoid TV Platforms / Solution benefit from MyGica`s a worldwide secure online update service, to warrant and to run always the latest, saves and greatest Firmware and Application which are available.
Media Contact
Email: sales@mygica.com.